Ever heard the phrase "The painter's house goes unpainted"?
How about: "The shoemaker's kids are barefoot"?
Basically, those sayings mean that an expert isn't doing the things for themselves that they do for others.
Well, here's the thing: I've been helping my clients KILL it for years. I can show you how to take a skill, turn it into a business and make $100k+/mo. I'm that dude and I have receipts to prove it, lol.
My client Brandon just sent me this last week.
I think he's pleased…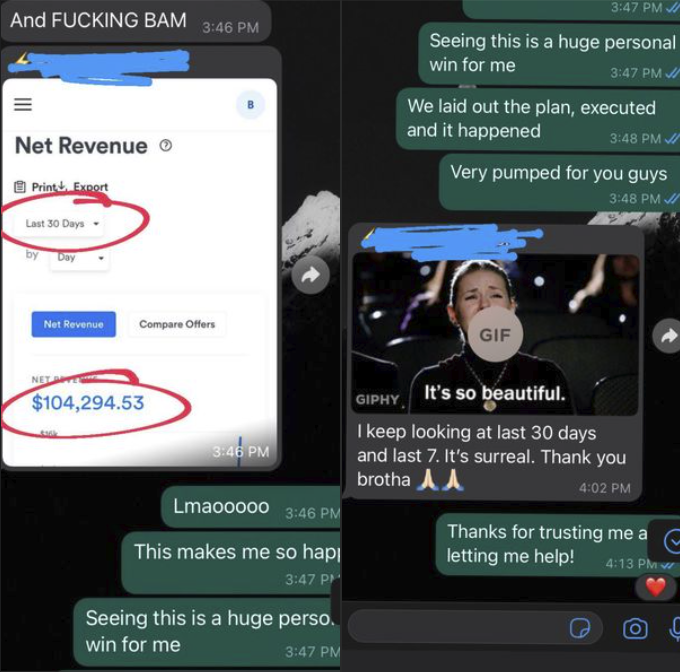 But I have an embarrassing confession…
I've made millions of dollars online and had many six-figure months over the years.
In fact, I've created $100,000+ months in 3 different industries:
Education / online training: this was primarily 2014-2018 building my first brand, Rich20Something.
B2B services: this began in 2019 when I was consulting media brands like LA Weekly.
Ecommerce: with my company Strength of Seduction, which I started in 2020.
I've spent so much energy working with clients that I've neglected the consistency of my own systems.
My online funnels are a mess. My programs are not organized. My offers are not clear. I'm not doing what I advise my clients to do that helps them win!
I think part of the reason is that because I know "what" to do and I've done it before — so I haven't been taking it seriously.
And there's definitely a bit of laziness mixed in there…I'm not gonna lie.
But in 2023, that changes.
I'm building a $100k / month business for myself from the ground up, just like I've done for many others.
This means that I'm not taking any more private clients for the foreseeable future. It's tempting to do so because they get incredible results and pay me handsomely for it — but ultimately, my energy and focus is finite. I have to direct it like a prism of intention.
And I have a big "why."
I'm doing this because I want to start my family soon and I need to create more than just "good money" — I'm ready to create generational wealth.
So, I'm beginning the journey with an intention to hit $100,000/month PROFIT by my 35th birthday on May 4th, 2023.
My new brand, New Wave Entrepreneur, will feature programs to help entrepreneurs:
Grow, save and invest their money
Improve their mental health and focus
Scale their businesses through multiple stages of growth
The products we offer will feature a combination of DIY (Do It Yourself), DWY (Done With You) and DFY (Done For You) services.
Our top tier offerings are designed to help coaches, consultants and expert service providers escape commodity pricing and gain leverage through High-Value Offers.
It's a tall order and I'm being very public about it. I could fail.
Will I hit my goal by May 4, 2023? I don't know. But I sure as hell am going to apply everything that has worked so well for my clients.
I plan to document this process and share
The wins
The losses
The ups and downs
The utter confusion
The fun of it all
LMK if this is something you're interested in by leaving a comment below.
What are you most curious to learn through my journey?
Thanks for being here.
Talk soon,
Daniel "$100k/mo" DiPiazza